Zlatibor is a beautiful mountain placed in the western part of Serbia. The highest peak is Tornik at 1496 m above sea level. It is characterized by a cool mountain climate, clean air and long periods of sunshine during the summer. Tourist facilities in
clude a lot of hotels, private accommodation, holiday centers and cottages, sports grounds and skiing.Zlatibor is a popular mountain resort area in south-western Serbia. It is incredible beautiful mountain, bounded on the by Mount Tara and Veliki Rzav River on the south. Eastern Zlatibor is best known by its village Sirogojno where is placed The Old Village Museum and it collects the old houses from all over Zlatibor making a small village of them. Not far from Sirogojno, there is a village Mackat, famous by kind of very delicious dry meat (Serbian: prsuta). Central part of Zlatibor is region of friendly people, old wooden churches and fast mountain rivers. Center of western Zlatibor is village Kremna, place where the famous prophets from the Tarabic faimly lived. Close to Kremna, popular railway museum is placed, called the Sargan Eight because old railway looks like the number eight.Zlatibor has the tradition of tourism 117 years long, starting with the visit of King Aleksandar Obrenovic, to whose honor a fountain was built, where tourists are finding refreshment to this day. There are also data saying that the first tourist in Zlatibor was certain Hadzi Nikola Selak, who built a vacation hut in the village of Vodice, back in 1750. The tourist season here lasts over the entire year, and with the construction of the Tornik ski center, the number of skiers increases by the year. The six-seat lift can transport 3,000 people per hour, and four existing tracks are almost eight kilometers long. Also, since the winter 2010, all tracks are covered by the artificial snow system. In the summertime, the lift takes tourists for the panoramic sightseeing....http://www.visit-world.com/en/360panorama/v/ids/hxncjm-Ski-resort-Tornik-Zlatibor-mountain-Serbia
ZLATIBOR
ZLATIBOR-SERBIA-........KUSTENDORF:......
http://www.360cities.net/image/crkva-svetog-jovana-krstitelja#-158.78,-4.62,77.4
Border Movers are still on mountain Zlatibor. Today they woke up in village of Mokra Gora, Wet Mountain in English. This village became popular after well known Serbian film director Emir Kusturica built here traditional style village what is known as Kustendorf, Mecavnik or Drvengrad what means Wooden Town. This ethno village was made for Kusturica's film Life is a Miracle. Streets of this village has names of different personalities what somehow are significant to Kusturica – for example Federico Fellini or Bruce Lee.In Mokra Gora there is a train station for famous Šargan Eight. What is is? It is narrow gauge railway. Before 1974 narrow gauge railway line connected Sarajevo and Belgrade but then it was closed. After 1999 reconstruction of this railway started and now it goes from Mokra Gora to Šargan Vitasi station. If you look at this line from the sky it looks line number 8.........http://www.youtube.com/watch?v=1BqVt0jL3eg.
KRALJEVI KONACI-ZLATIBOR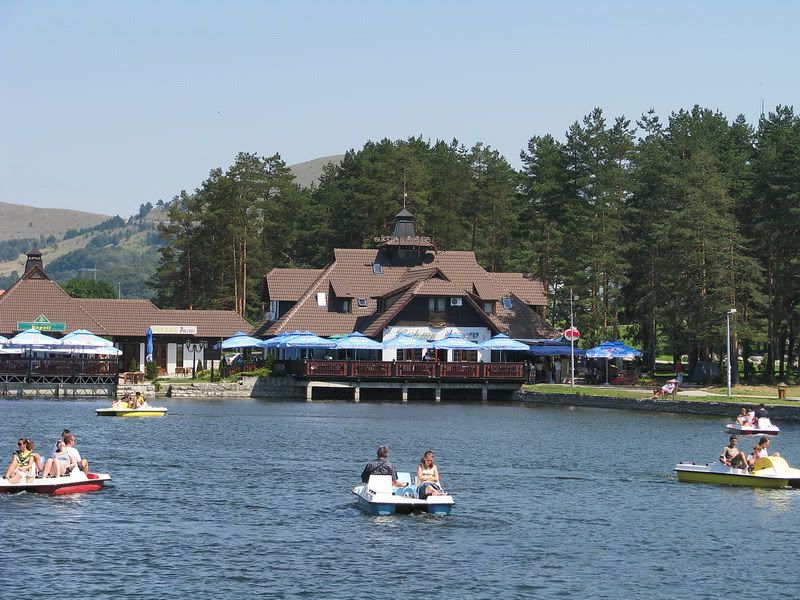 Zlatibor-Serbia....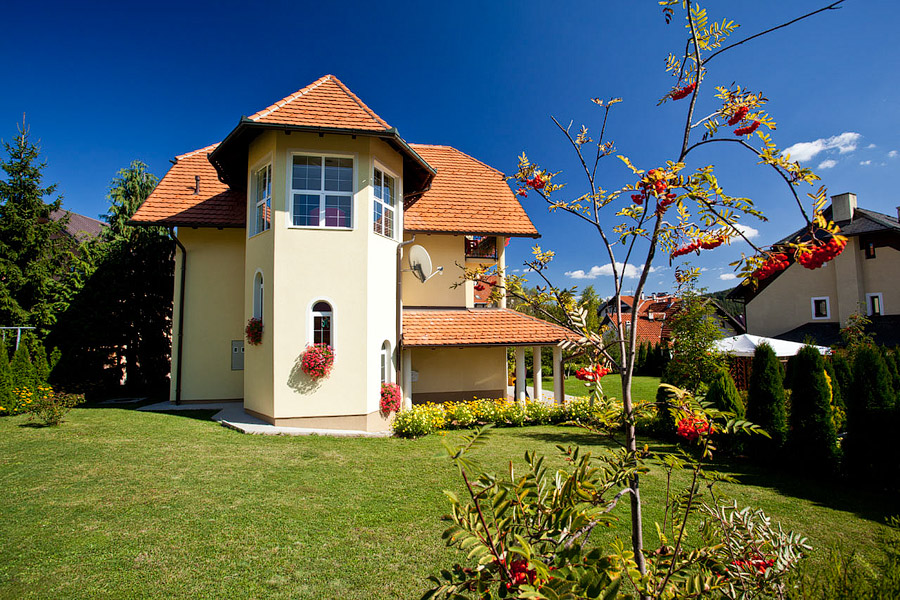 Gostilje-Zlatibor
Ski center Tornik is the biggest ski resort on Zlatibor, 9km away from Zlatibor tourist centre. Its height is 1100-1490m above sea level.
Four ski paths (Čigota, Tornik, Ribnica and Zmajevac) have been renewed and widened and the most modern six seat cable has been installed. Its capacity is 3000 skiers per hour, the speed is 5m/second, the length is 1650m and the number of seats is 99. Its starting point is 1,111m above sea level and it climbs to under the peak of Tornik at the height of 1485m.............
The Stopica cave is located on the northeastern side of the Zlatibor Mountain...Earliest records about this cave in the Serbian Geological Institute date from the early 20th century, but first explorers were Czech speleologists, who used special diving equipment in 1984 to find out that there are tunnels and five chambers underground, in the length of two kilometers. The cave has about eight square kilometers in area, while in some spots it is up to 59 meters high. It is a subterranean river cave, with the Trnavski creek running through it, which has significant impact on the microclimate.The Stopica cave differs from most other caves in Serbia because the inside temperature depends on the season of the year, so in the summer it is warm, while in the winter it is cold. The entrance is an impressive opening, 40m high and 18m wide, standing in the limestone on the altitude of 711 meters. The limestone layer dates from the Triassic period and is over 100m thick. .....
..........